Buildie Launches a New Feature: An Easy-to-Use Workflow Management Functionality for Infra Construction
Buildie Ltd. has launched a new feature that will transform the current task management processes and practices of the infra construction industry. The new Workflow Management functionality will complement Buildie´s documentation and quality management capabilities, making it an even more profound field tool for managing infra projects and tasks.
The feature has been developed specifically with customer needs in mind, resulting in an easy-to-use tool for workers´ needs in the field.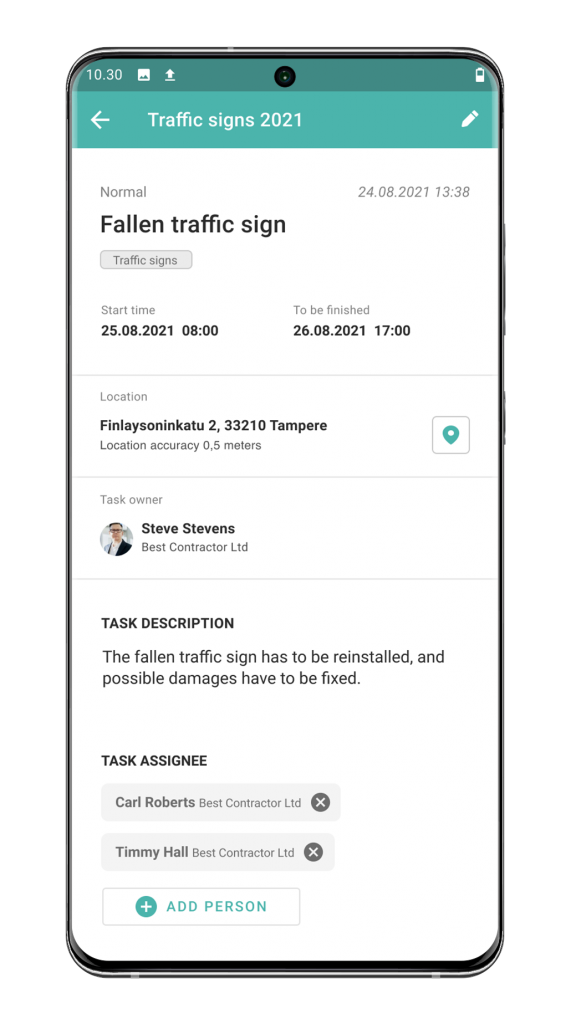 Since 2017, Buildie has worked closely with Finnish infra construction organizations aiming to continuously develop worksite documentation practices in the industry. From the very beginning, the company has focused on creating a quality management solution for construction that includes all the necessary documentations sections, such as photographic documentation, document management, worksite diary, work safety measurements and forms.
During the past couple of years, Buildie has recognized a remarkable neglect of the needs in renovation construction as there is no truly functional solution for workflow management. Current industry practices are old-fashioned and outdated. It´s a mix of morning meetings, Whatsapp message groups, paper notes, and multiple phone calls here and there.
— We noticed how some of our customers started using Buildie alongside worksite documentation in their workflow management. They tried to use the photographic documentation for it, explains Taneli Ristmeri, CEO of Buildie Ltd.
— This was a big surprise for us as the solution wasn't developed for workflow management, but we realized that we should develop an easy-to-use solution for it as well. It is something that is desired.
Buildie will revolutionize the workflow management practices of maintenance and renovation construction, just as it did the worksite documentation of infra construction a few years earlier. The core focus of this new feature is the quick, simple, and easy distribution of tasks to workers. The foreman can monitor the status/progress of tasks through a control panel or map which enables a geographical overview. Solid documentation left after every task ensures ease of data retrieval for images, task descriptions, workers, comments, GPS, and other relevant information. Buildie´s Workflow Management can also be used by customer services to create and send tasks directly to workers or foremen, which is highly practical in cities and municipalities.
Buildie´s Workflow Management also enables advanced practices such as task pools where crafty users can grow towards self-direction. Workers can pick up tasks by themselves and work more independently. Additionally, the number of repair and maintenance requests will increase as anyone from the organization can document them. This way the organization will get the most critical requests immediately in their repair and maintenance processes. When tasks are categorized and have location information, managers can lead efficiently with data. Our customers will know exactly where resources have been used and they will have data to make better regional investments.
— At the time, no one believed that workers would document on worksites or that worksite documentation would interest anyone. There has been a wake-up call and Buildie is now used in more than a hundred developer organizations of infra construction. Buildie's Workflow Management will be the next thing that will push the infra construction industry towards more efficient practices, assures Ristmeri.
The Workflow Management feature will help Buildie expand to other sectors of the infra construction industry where the company has yet to receive an adequate market position. It will also improve the company's position in its export endeavors.
Contact for more information:
Taneli Ristmeri
CEO, Buildie Ltd.
+358 400 610 102
taneli.ristmeri@buildie.fi
---
Click here to read more about photographic documentation, worksite diary, document management, work safety measurements, and forms!